Simple Software
"Where software engineers go when they need software"
In the digital age it is now possible to access and run your entire company on a secure internet site from anywhere in the world and save money doing it. We have spent the last three years and two million dollars developing innovative software to make your life easier. The software includes your own web domain with page editor and email, 24 hour customer support and an online applications like TimeClock, that allows you to make your payroll spreadsheets in seconds rather than hours. You can say goodbye to expensive costs like payroll, hardware, software and IT staff! Think of where that money could go!
Whether you're a small, medium or large business, simple tools allow you to quickly create online databases, web applications, and web forms, all without writing a single line of code!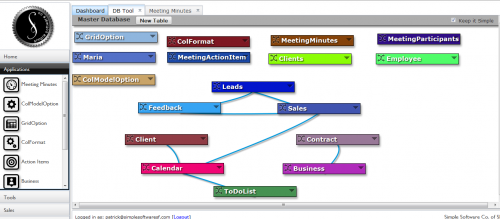 With Simple Software you can:
Choose from our list of existing applications
Use our tools to design your own
Upload existing applications into our framework
Utilize our programming expertise to help you create whatever integrated software your company needs
Check out our low pricing structure.